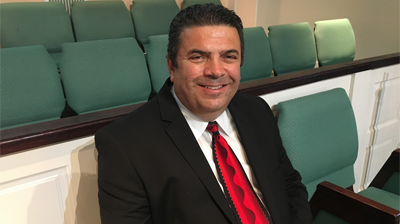 Martin Shott
Senior Pastor
[email protected]
Pastor Martin Shott and his wife Sondra (Sonie) have been with Harvest Baptist Church since December of 1985, when Pastor received a unanimous call from the five members of assembly to be their Shepherd.
He and Sonie both graduated in 1981 from Maranatha Baptist Bible College in Watertown, Wisconsin. Upon graduation they taught in a Christian School for one year in Frankfort, KY at Frankfort Baptist Tabernacle, and then for two more years at the Berean Christian school and Berean Baptist Church in Rockford, IL, where Pastor Melvin Swanson has been since 1953.
Pastor Shott "borrowed" Berean Baptist's Church Theme for our church: "A Going Church for A Coming LORD". Certainly, we have been a "Going" church since that time. Three weeks after becoming Pastor of Harvest Baptist Church the church moved from its rented hall at 48 Butler Street near downtown Torrington, up to "on the hill" at 624 Torringford W. Street, where the church would make its home for the next 13 years and 8 months. The 2,200 sq. ft. church building was rented until August of 1987 when it was purchased for $100,000. Our congregation slowly, but faithfully grew over the next several years. Multiple services, fourteen different meeting locations, including tents, buses, bookstores, hair salons, business buildings, living rooms, a restaurant, school classrooms and eventually a school gymnasium were all used as meeting places due to growth. That is when in September of 1999 Harvest Baptist Church relocated just outside city limits of Torrington to its present location in New Hartford, 1440 Litchfield Turnpike.
A little history of Pastor Shott, he was saved at an old-fashion Revival meeting as a boy, growing up in northeast Ohio. He was baptized at 16 at the New Lyme Baptist Church in New Lyme, Ohio. Upon graduating from high school he went off to Bible College in the fall of 1976, and during his freshmen year he felt a call from God to the ministry. Sonie grew up in Marshalltown, IA and was saved at the age of five at the Fellowship Baptist Church. Upon graduating from Central Iowa Christian Academy, she too went to M.B.B.C. They were married on August 15, 1981. The Shott's are proud parents of three daughters, all of whom are married; Kristen their oldest and her husband Keith Pelletier, Laura their second, and her husband Jonathon Vasaturo, and Jessica, their third, and husband Shawn Anthony. The Shotts are proud grandparents of 14!
Caleb Schnurr
Associate Pastor
Caleb Schnurr has been serving in Christian ministry for over 9 years. Caleb and Jennifer were both raised in Geneseo, IL, where Jennifer's father was the pastor for over 20 years. After completing his Bachelor's degree in Pastoral Theology from Bible College in 2015, Caleb married his high school sweetheart, Jennifer and they have been blessed with four children - Reagan, Ryan, and Ryder (twins), and Rowan.
Caleb has been heavily involved in various ministries such as Bus ministry, Jail Ministry, Christian Radio Ministry, School Bible Teacher, and Youth Pastor.
Caleb and Jennifer previously served on staff at Harvest Baptist Church from 2017-2019,
and they are so thrilled to be back "HOME" here at Harvest Baptist Church.